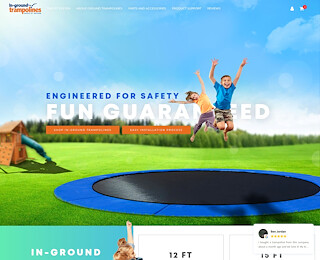 Are your kids enthused about bouncing, but you believe above-ground trampolines are simply too dangerous for backyard play? You're probably right about that. Without experienced spotters, trampolines can be all kinds of hazardous fun. That's why Andrew Bracanovich improved upon the idea of ground level trampolines. Installation typically takes less than a day.

In June of every year, the Nalukataq or the spring whaling festival is celebrated by the people of northern Alaska. It's a joyous event with much feasting and frolicking. One of the most popular pastimes at the Nalukataq is the blanket toss. Sturdy natives hold the edges of a round blanket while one delighted participant is thrown up in the air. They land on the upheld blanket and tossed into the air again and again. Kids and adults all enjoy the Nalukataq blanket toss. The similarities to the traditional trampoline are considerable. Humans everywhere seem to enjoy the feeling of being mid air; ground level trampolines provide such a thrill, and in a potentially safer fashion than the traditional Alaskan blanket toss.

It's super easy to safely install IGT ground level trampolines. Just dig a hole, install the assembled three-part frame retainer and trampoline unit, backfill the hole and sweep around the installation area. Some people make efforts to install regular above ground trampolines into the ground, but the results are never quite as satisfactory as those achieved when you properly install ground level trampolines from IGT. You may not have enough strong Eskimo and Inuit neighbors to hoist an authentic Nalukataq blanket toss, but pit trampolines are just as much fun. In-Ground Trampolines stocks, sells and ships world class bounce devices. Buried trampoline frames are exponentially safer than above ground trampoline frames. Contact us with any questions or comments you may have about the classic fun of bouncing.